Okay so Valentines day was a few days ago, but due to the massive amounts of snow we had, I didn't have the boys' gifts. Well, I had Jaben's, but Kyan's was being given to me by my boss's awesome mom. On Monday, she told me she had a teddy bear she needed to get rid of (she works at a hospital and sometimes they have to clear out their gift shop) and wondered if Kyan would like it. I wasn't about to turn down a free teddy! She's given me stuffed toys for the boys before and they're very nice toys - way beyond what I would normally buy for them myself - so I knew it would be nice. She did say it was big... but I guess I didn't understand exactly what she meant by big!
So yesterday at work, my boss went to pick it up when she went to get the mail, and when she came back she was giggling... and holding this enormous 3' tall, very round light brown bear! I had no idea Big Bear was
that
big - but oh how cute he is! Big Bear spent the day in my spare chair, and every time we looked at him, we laughed. I couldn't help myself from patting him on the head every time I walked past. He's just the cutest, funniest thing!
When I picked the boys up yesterday they got their gifts (finally, although I don't think Jaben was impressed with his vapor-bubble gun), and I'm feeling much better about not having anything really good for them on Valentines Day.
I wanted to get a record of just how big Big Bear is, so I got pictures this morning. Everyone, I would like to introduce our newest addition... Big Bear!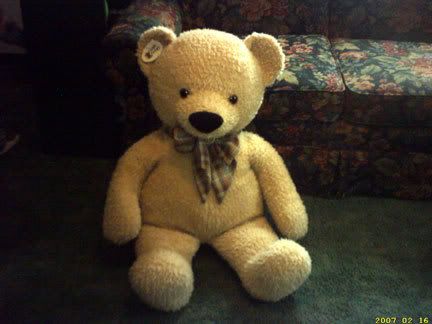 This is Jaben with Big Bear... this one gives some idea of just how large Big Bear is.
Kyan with Big Bear... notice how Big Bear is bigger than Kyan! But we love him!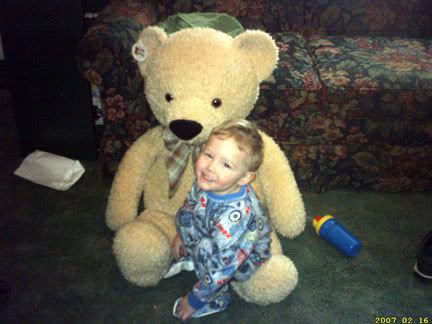 Sometimes I am absolutely blown away by the cool things people do for us. And even tho Big Bear was something that had to be given away anyway, I love that she thought of us! As you can see, both boys just love our new friend, Big Bear!