This post was started on Monday, June 5. Sorry it took me so long to finish and post!
****************************************
OMG Jaben ROCKS!!
Oh and sorry it took me so long to get to this. I was so tired Sunday for some reason I barely managed to get our laundry done, so posting was definitely out.
Anyway... he was SO cute!! All the kids were and the play was so funny! They had added in a bunch of lines and a few asides to the audience that were genuinely funny - no fake polite laughs required!
And oh - he was so sweet in his King Zozar costume! I don't think I'll be getting pics on here right now (I might surprise myself, I dunno, not a great day here at work and I'm here late as it is because technical difficulties suck) but I will, I will, I will! I promise!! Hopefully.
There was only ooonnneeee little glitch... When they got to his BIG scene... well really his big song, it started out fine, then about 5 lines or so in... he froze. He simply forgot the words to the song!! I was freaking. Freaking. But, Jill, being quick and rather experienced in doing plays with children, restarted the song - as I said it wasn't that far into it - and gave him another chance. It wasn't that noticeable, actually. So, he started over and... forgot the words again! This time, rather than starting the song over, Jill began singing along - loudly enough for him to hear - and he was able to catch on and catch up. After that - he was
fine.
No more forgotten lyrics, no missed lines - he made me (all of us, actually) very, very proud.
At the end of the play, Jill announced each child and what part they played and they each got to take their own individual bow and get their own cheers. Jaben cheers were
so loud
it was awesome and you could see in his face how very happy he was. Then of course they took a group bow and posed for group pictures. We were lucky enough to get a halfway decent picture of the group.
And now it's over.
I can't believe it. It seems like we've been doing this for so long and so much work has gone into it that it's hard to believe that's it. At least until September (I think) when they begin working on A Christmas Carol. I'm a little bummed I won't be able to do it with him (they need 2 parents from each class to be in the play) because of my work schedule, but I can't wait to get him started again! He's good. Maybe I'm all mommy-biased, but I think Jaben is
good
at this. Especially the funny parts. The comical asides, facial expressions, quips that sound spontaneous…. He's dead on every time.
I have to say – this kid could not make me more proud. And I really, really hope he knows it.
Okay, now let's see if blogger will let me post some pictures…
****************************************
First scene… Jaben as Montu… second child from the left…
Second Scene… Greece…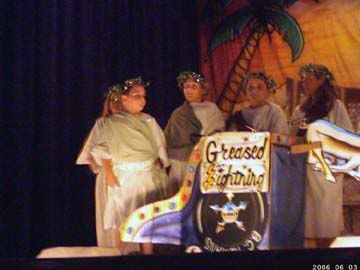 Third scene… Egypt… meet the great King Zozar!
Fourth scene… Rome… sing, Jaben, sing!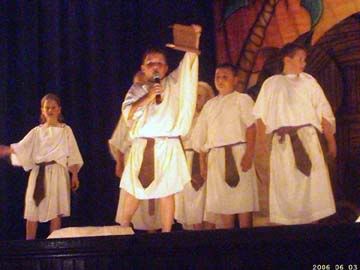 And finally, the cast picture…
This isn't even remotely all of the pictures I took, but it's a pretty good sampling of Jaben on stage.
And so… onward!! Next to A Christmas Carol!!
But first… a weekend of camping with 10 yr old boys. Good Lord what
was
I thinking???