We had a nice 4th of July, in spite of Kyan being sick and Jaben being at Boy Scout camp. I can't believe how much I'm missing him now and I can't wait for him to get home tomorrow! So for now, I'll recap the 4th... with pictures!
First, we went the the annual 4th of July parade. Jaben's scout troop came back from camp to be in the parade, so we were very excited! Here's Kyan waiting for the start of the parade... in the sprinkles that, thankfully, didn't last too long.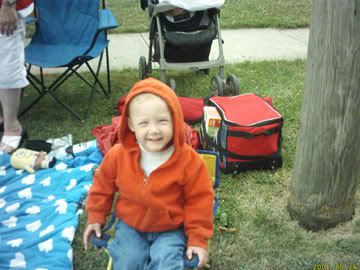 Jaben's float was one of the first to come by, and they were moving quite fast! This was the only picture I had time to get, and it wasn't a very good one. A good friend of mine got a better picture... in fact she got great pics of the whole parade! For her recap, go here:
Palm Tree Fanatic
And here's Jaben, looking far too excited to be in the parade.
My cousin Timmy is in the middle school marching band. He plays drums, but as they passed us, he was pushing another drummer in his wheelchair. So, that's what I got my picture of.
Later, my aunt, my sister, her friend and kids came for a cookout. I didn't get pics of that because, as I said, Kyan's been sick. So we napped a bit and then ate. After that I took a trip with another mom out to Camp Firelands to visit our big boys for Parent's Night. Jaben was actually happy to see me and hugged me in front of his friends! Here's my sweet boy...
We had a picnic dinner with the boys while we were there. Here's Jaben and Logan (whose mom I rode with) having their dinner. Jaben is drinking root beer, btw!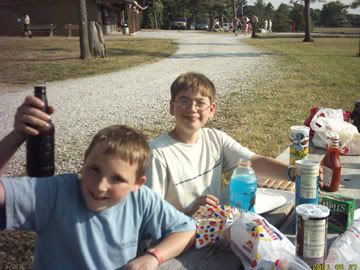 We then took a fun, bumpy hayride back to the boys' camp area to see where they're living (amongst the big 'ol wolf spiders!) for the week. I forgot to get a pic of their camp, but I did get a pic on the hay wagon of Jaben and his tent mate, Matt.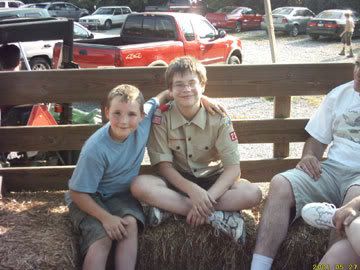 One odd side... when we were on the hay wagon heading back to the front of the camp, I ran into someone I knew in high school! Hey Tina... remember Geneva?? Remind me to tell you about that! So very odd!
When we got back to the front, Jaben bought a slushie and I ran to the ladies room. There was quite a line and I guess he got tired of waiting for me. Poor kid was all worn out!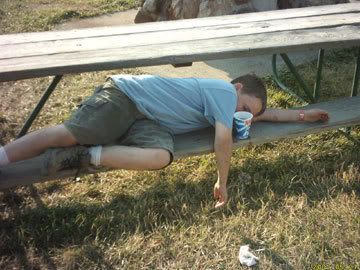 So... I took a couple of quick shots of the front of the camp because it was pretty. These pictures can't begin to do it justice. It was gorgeous!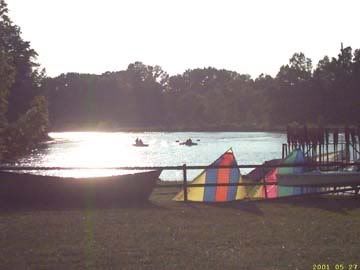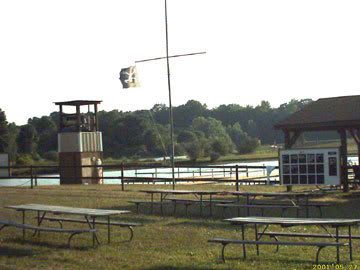 And then it was time to leave. I did buy Jaben a pretty cool water bottle with all kinds of scout camping stuff inside it before we left, and he's been a bit bored at camp without enough scheduled activities to do (long story) so he said he wanted to come with me. Logan told his mom the same thing, but I don't think they really wanted to come home. I think maybe it was just a little hard to see us leave. I'm sure they're having fun and they'll be home tomorrow so we'll hear all about it.
We didn't go the fireworks that night because, as I said before, Ky's been fighting a cold. But we could hear them from our house! That was unexpected! It was nice, for once, not to have to fight traffic as well as actually get a halfway decent night's sleep. I did have to work the next day, after all.